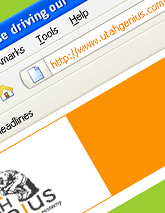 Durham Jones & Pinegar specializes in returning website domain names to their respective companies. How would you feel if someone stole your company's address or its telephone number? Sounds unlikely. However, stealing the name of your company—or a well known trademark—for use in a domain name is a common threat. This threat is known as "cybersquatting." Sometimes, the cybersquatter is trying to hijack traffic from your legitimate website. Other times, the registrant is just trying to extort money from the person who should rightfully own the domain.
DJP is ready to help! There are legal remedies to stop cybersquatting. These include:
Applying the Uniform Domain-Name Dispute Resolution Policy (UDRP)
Falling under the Anticybersquatting Consumer Protection Act
Under the Uniform Domain-Name Dispute-Resolution Policy (UDRP), the owner of a trademark may be able to cancel the domain name registration. The UDRP procedure cannot give damages or costs. However, it is, generally, less expensive than litigation.
There are also federal laws that provide for damages and costs against cybersquatters. Under the Anticybersquatting Consumer Protection Act, the cybersquatter must have a bad faith intent to profit from a distinctive or famous mark. However, the damages can be substantial (i.e. statutory damages up to $100,000 per name). Furthermore, you can combine multiple domain names in a single cybersquatting suit.
Some states are also adopting laws regarding misuse of others' trademarks or domain names.
DJP is the expert in protecting your intellectual property. With our direction, you'll be able to protect your website domain name and stymie cybersquatters. Take back your company's good name, or learn how to protect it from future threats.